In their own words, Fabindia is India's largest private platform for products that are made from traditional techniques, skills and hand-based processes. It is a brand focused on translating the traditional to the modern.
This demo Virtual Reality XR eCommerce store for Fabindia translates traditional e-commerce to a new-age interface - 360 shopping. Built on the GMetri platform, and a lot like our experiments with 360 experiences for Zara, these stores rest on a simple premise - enhancing user engagement with a brand has a direct relation to an increase in sales. With the help for VR for Shopping, you can achieve this goal.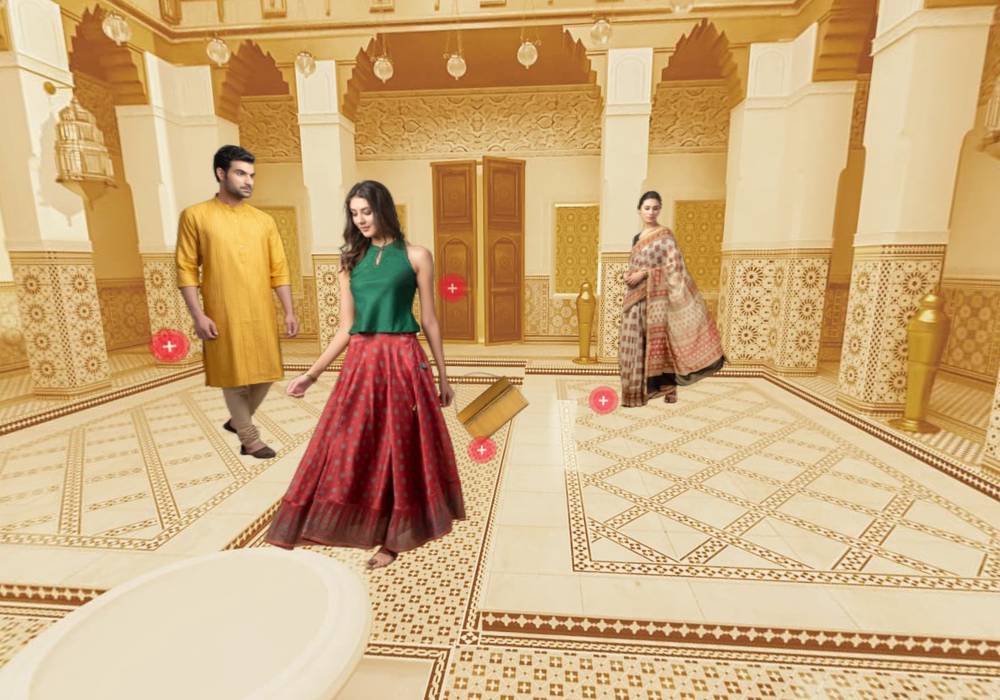 Enhancing User Experience with XR:
XR enables product discovery for e-commerce. In physical stores, people shop differently. You go in to buy bread, you end up buying chips as well. You walk into an apparel store looking for a t-shirt, you end up buying socks - things you had no original intention of purchasing.
A GMetri's client's e-commerce site has an average user scroll of 2.5 - 3 screens for core products, and 1.5 screens on average. If we assume the average mobile phone allows you to see 4-5 products per screen, the average user scrolls through a maximum of 12 products, as opposed to the 100+ we enable. GMetri's XR experiences fit a maximum of 140 products per screen.
Malls make you walk more - so you see more. Age-old concepts of physical retail - see more, buy more - translate over to online retail with GMetri's XR platform.
Most people have a typical cycle with shopping in e-commerce - search is the primary mode of discovery, that does away with the process of discovering categories - something that is an essential part of traditional brick-and-mortar retail. XR sustainably breaks beyond the search<> add shopping cycle.
This Fabindia experience replicates the feeling of presence, adding contextualization, and creating stories with their Malhar collection.
You can experience this VR based eCommerce store here:

Or simply click here to open in a new window.
GMetri is ready to implement today, and you can have your XR stores up and running in a week. GMetri has delivered live, game-changing implementations with companies like BigBasket, Legrand, Reliance among several others.
GMetri delivers value today, while getting you on-board with tomorrow's technology.