Several setbacks come with the traditional methods during the training process in manufacturing companies. Some of them are unit floors that stop functioning during the training period, the safety of new workers being jeopardized, and repetitive manufacturing training programs with every batch. Other sets of flaws in traditional methods include lack of trainer's skills, maintaining training engagement, and inability to prepare for every situation because it can't be simulated. This leads to heavy production losses since every process has to be planned and organized for batch while ensuring no mishaps occur. The solution that can effectively address these issues is implementing Extended Reality (XR) for employee training in manufacturing.
Implementing XR solutions such as GMetri's XR Platform does not require you to stop production lines or compromise when taking people through your facility. To resolve repetitive employee training in manufacturing, XR offers on-demand learning and is made accessible from any XR headset, tablet, mobile, or desktop. Also, statistically speaking, it takes 60% less time to relay the same information in XR with an over 95% retention rate.
Various application areas can be simulated, gamified, or assessed based on the industry's requirements. GMetri's modules for gamification in training leads to immersed learning with interactivity. Gamification enhances engagement and keeps trainees interested. Some of them are executing tasks on a virtual machine in a safe environment and getting feedback on the performance with a detailed analysis of strengths and weaknesses. Lastly, trainees can get certified before actually working with the real machine.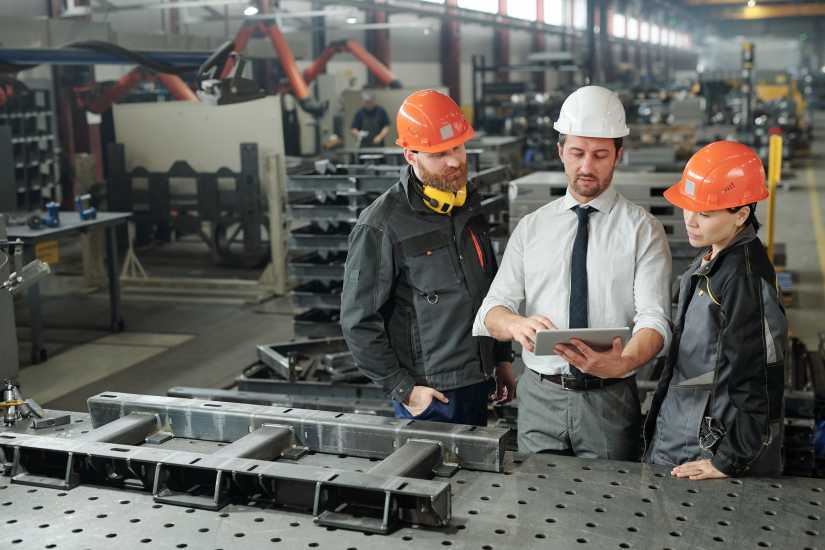 XR in Process & Machine Training
Machinery used for production is expensive and must be used efficiently for training and production. The production has to halt during the training process. Therefore, every training program has to follow multiple steps and detailed SOPs. The traditional model followed by manufacturing industries is too outdated given the current XR technology advancement.
Training in onboarding is all about hands-on experience. With XR, trainees now can learn about the machine and interact with it. A virtual tour around the industry can be replicated where videos can simulate experiences like walking around it or watching the machinery in action.
Augmented Reality (AR) technology can help place the heavy machinery in front and empower better understanding. Beginners can see someone else do the task on the equipment, and also an interface with the HMIs can be imitated.
Training in manufacturing businesses isn't a one day task, and it requires consistency until the memory can grasp it perfectly. Effective memorization comes with practice. With GMetri's XR solutions, trainees can have practical exercises. Industry can now get detailed SOPs and steps on the on-demand platform page, which can be accessed even after training by QR codes pasted on machines. Resolving doubts is achieved with the help of live/virtual trainer assistance and information about dealing with exceptions.
Facility Virtual Tours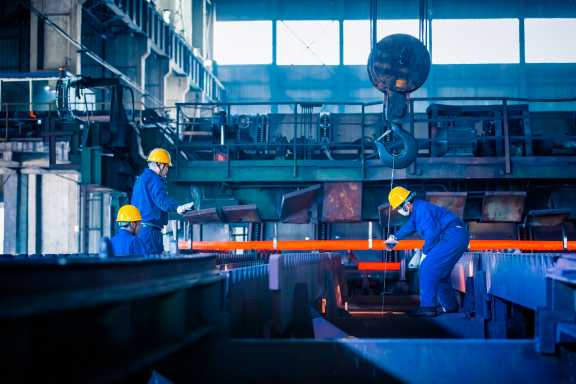 An in-person visit is necessary to familiarize the employees with the facility's work environment. As mentioned earlier, this might not be possible considering the limitation of production in XR for manufacturing.
However, training with an immersive tour and the help of digital twin technology allows you to walk around and explore a facility virtually. At the same time, a virtual guide takes you through the space, explaining specifics and bringing information that makes you understand the area thoroughly.
Reciprocal experience enhances practical learning. By interacting with elements in the tour, such as images, videos, audio, and even 3D models, we can overcome the physical barrier yet achieve efficiency and flexibility in learning. In addition, incentives to visit more spaces or to understand processes deeply can be put via gamification elements like scavenger hunts, trivia, quizzes, or skill tests.
Some more AR & VR use-cases for Employee Training in Manufacturing Companies
Besides the above use cases, there are a few additional application areas where AR and VR can excel. To name a few, these fields are Health & Safety Training, Recruitment & Onboarding, and Soft Skill Training Simulations. Adding to that, it can also be related to Leadership, Inclusion & Diversity Simulations.
Towards the Conclusion
Introducing gamification in employee onboarding and training and efficiently structuring the program brings many benefits.
Introducing gamification in employee onboarding and training and efficiently structuring the program brings many benefits. All the above benefits can be reaped with the help of GMetri's XR Platform. So start the journey today; you can request a callback here.